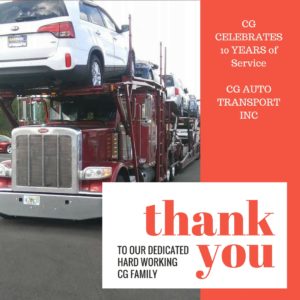 Change is inevitable. It is a part of life. The seasons change.  The weather is constantly changing. People and places change. Some changes are for the better and some are not. In business, like any other part of life, you can also expect change. But in life and in business there is one thing we will continue to hold sacred. And that's quality.
Our quality of service and commitment to a job well done will never change. We value our customer's vehicles and treat them as our own.
After 10 years, a growing fleet and growing staff, how do we continue to provide quality service you may ask. It's our dedicated staff. We have the best drivers in the business. Our hardworking office and dispatch team spend countless hours ensuring assigned freight is delivered in a timely manner.
Thank you to our Dedicated staff for 10 years of Quality Service.